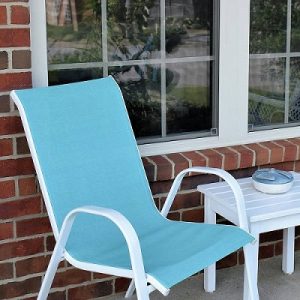 The first challenge I completed was the Seven Day Challenge with Liquid as the theme.
The Three Day Challenge stated it was for any theme but I used lamp shades for all three images which produced a theme for my entries.
The Five Day Challenge had a green theme and I created my images with a "theme within a theme" meaning that all images also contained a food or beverage as well as being green.
This latest challenge which is ending today was a Six Day Blue Challenge.  That's right.  Blue was the theme.
Blue, my favorite color. Primary blue, sapphire blue, turquoise, aqua, teal…..I love them all.  Regardless of the style or combination of colors that I have used to decorate our homes over the years,  blue was always, always one of the colors that I used.
When I first started the challenge I knew that I wanted to make it a true challenge for me, by once again using a theme within a theme.
My first image was Turquoise Chair On The Porch.  What was it about that image that I could use repeatedly all six days?  I knew that weather permitting I would be taking all of the photographs outside in order to get good lighting.
At first I thought that I would use that chair in different locations outside.  But that would only give me three days of images if I used it on the front porch, the back patio and in the yard against the fence. I needed six images not three.
My second idea was to make sure that the brick wall on the porch was the background for all six images.  But once I planned several close up still life images that idea was tossed out.
What could I do?  What could I use throughout all six images that would tie them together besides "just blue"?
By the morning of the second day, after tossing and turning most of the previous night I knew what my theme within a theme was going to be!  I knew what I was going to use in each and every image along with the general usage of blue.
Do you know what is included in each image besides "just blue"?
Can you guess?
Well, actually I have given you "just" a couple of hints!
When you have discovered what I used as a theme within a theme please comment below with your guess.  Hopefully it won't take you as long to discover this as it did for me to decide on it!
Blue Theme images can be viewed HERE.