Getting to Know Rick Berk
I think one of the main things about my work, and about me in general, is that my work is vital to my mental health. Being out in nature helps me reset, calms my anxiety, eases depression. Studies have shown that looking at nature photos have the same effect, so working with my photos when I edit has a similar benefit to me. My work has helped me to heal from past personal trauma, and to get through times that were particularly difficult for me. Photographing the landscape is as vital to me as eating and breathing.
When did you first become interested in art?

I've been interested in art since I was a young child. Growing up, I always had a sketchbook going, or some paper and a pencil in my hand. I began taking formal art courses in high school, and then majored in art in college. I had originally planned to become a graphic designer after college, but changed my mind while I was in school.
What about photography in general?
It was in college that I took my first photography course and from the moment I developed my first roll of film in the darkroom and made my first print from it, I was hooked. I knew I wanted to be a photographer.
I started out wanting to photograph sports- American football was the first one I photographed while taking my first college course.
I quickly began freelancing for several local newspapers and photographing high school and college sports.
Over time, my desire to be out in nature began to take more of a hold on me, and I began photographing the landscape. The more I did landscape photography the more I wanted to do it.
I was the cinematographer on this video
Which camera do you use most?
I'm currently using a Sony A7R IV with a variety of lenses.
I was looking to make the switch to mirrorless, and Sony was a leader in mirrorless cameras. The availability of lenses for the system made them an attractive choice as well. Image quality was paramount to me, and Sony being a leader in imaging sensor technology also played into my decision.
Do you use a photo editor?
There is not a photo in my catalog that hasn't been edited in some way. How much I do depends on the photograph. Often, it's simply an adjustment of brightness, contrast, and color saturation. Other times, significant amounts of dodging and burning to lighten or darken localized areas is done. In the most extreme cases, I will create composite images to communicate my vision. Composite images are generally planned in advance and put together using multiple images I've taken to create a finished piece.
I've been using it (Photoshop) since version 1 and see no need to change now.
Do you enjoy the photography or the editing more?
Definitely the photographing. I love traveling and going new places and capturing the scenes that move me. But I do enjoy editing those images, as the process allows me to relive that moment as I edit, and allows me to perfect the image I want to convey to the viewer.
Which other photographer, dead or alive, would you love to meet?
I wish I could have met Ansel Adams. I would love to stand next to him photographing at sunrise or sunset, discussing his vision and watching how he works a scene. Reading some of his books on exposure and composition were eye-opening to me, and I take a lot of inspiration from his work, despite the fact that I think my style is very different from his.
What is your favourite piece of work by yourself?
That's almost like asking which of my children is my favorite! But if forced to choose, I will go with "The Cutler Coast".
The day itself was special as it was a day spent hiking with my wife, and the image just solidifies the memory of that day.
The Cutler Coast Preserve is a preserve at the eastern end of Maine, and is 12,000+ acres of rugged coastline, peatlands, blueberry barrens, and woodlands. We had decided to hike the 11-mile loop so I could photograph the coastline. We found the trail to be much more difficult than the ratings on various websites, compared to other trails we'd done. It took us much longer than we'd planned but the shared adventure made it special, and the photograph that resulted is among my best images.
How well do you take criticism?
It depends on how it's offered. I'm open to constructive criticism that offers me ways to improve. I think it's important to remember that while everyone has an opinion, not everyone's opinion matters equally. As an artist, we get used to criticism, but it helps knowing where that criticism is coming from.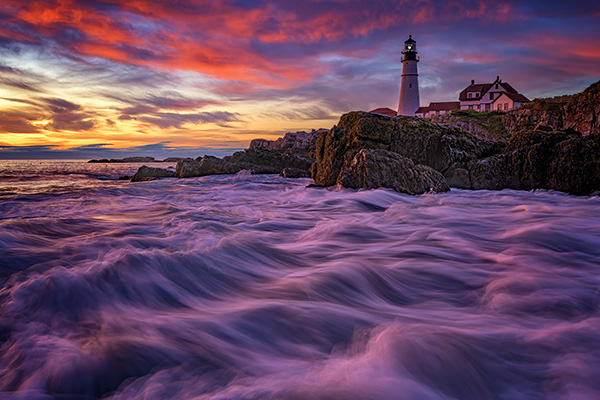 Do you travel far when photographing?
I've traveled across the United States by car multiple times over the past several years, from Maine to Seattle, and from Maine to Louisiana, as well as Montana, Idaho, Wyoming, and everywhere in between. I've also flown to Oregon and California multiple times to photograph.
What is your favourite personal photography story?
There are so many! I'll go with a funny one. I was in Louisiana visiting my friend Andy, another photographer. He had invited me down to show me the swamps and photograph with him. Our second morning out, he tells me he's going to take me to his favorite sunrise spot on Lake Maurepas. I'm getting excited, because I've seen the photos he's gotten in this spot.
We pull into this area of the lake, maybe 100 yards from shore. Andy anchors the boat and says "Ok, this is where we get out."
"Get out?", I exclaim. "What do you mean get out? Of the boat? What about gators?"
"Awww they won't eat much," replies Andy in his pronounced southern drawl, a mischievous grin on his face. He then went on to explain that alligators are fairly skittish and will stay clear of you if they know you're there.
So that's how I found myself chest deep in Lake Maurepas, my camera on a tripod, waiting for the sun to rise as I made the image that would become Cypress Symmetry.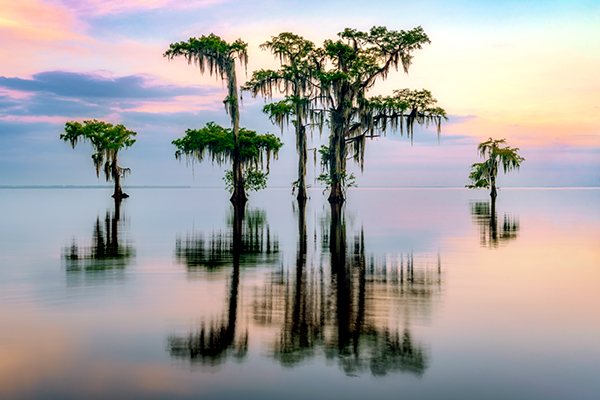 Have you had exhibits in galleries?
I showed in several local galleries, but once COVID hit, that came to an end. I never found physical galleries to be particularly profitable and have decided to stick to online exhibition and sales for the most part. I'm open to future shows if the opportunity is right for me.
Another thing to know, if it's not already obvious, is that I'm very passionate about what I do. But not only about creating, but sharing my knowledge with others. I teach several workshops a year and offer 1-on-1 lessons, both in-person and via Zoom. It makes me very happy to help others achieve their creative vision, learn new techniques, and watch them have those "lightbulb moments" when something clicks and they are excited to go out and try it.
What was the best advice given to you as a photographer? What advice would you give new photographers?
The best advice I've gotten was to charge what I'm worth, and don't undersell myself. For new photographers, my advice would be to continue to be a student of photography, to keep honing their skills, and if you're looking to make this a career, take a business course and a marketing course as well.
Do you think the internet has altered the way photographers can get known? If so, is it easier or not? Has the internet made infringement easier etc?
The internet has definitely made it easier to get known. It used to be you mailed portfolios to gallery owners and editors to get seen and maybe shown. Now, those same people can find your work online by chance and decide they want to show you. It's much easier to create opportunity, and for opportunity to find you.
And yes, infringement is easier as well. That's the downside. People are generally ignorant of copyright law, sometimes willfully. It's frustrating that there's this belief that because it's online, somehow it's fair game. Creatives work hard to produce their work. And as creatives, our work is a huge part of who we are, not just something we do, which makes it hurt all the more when someone steals your work without credit or payment.
(The Consequences Of Copyright Infringement: Don't Take People's Images From The Web!)
Have you done any courses to help you?
I've taken a variety of courses on photo editing and general photography over the years. I'm looking for some marketing courses but haven't come across one that feels like it fits for me just yet.
What do you do to market your work?
My primary marketing vehicle is social media like Facebook and Instagram. I've moved to building an email list so I can more directly communicate with those interested in my work. I also enter juried exhibitions to try and expand my reach outside of social media. I try and blog regularly as well to engage with people who already follow my work, and also to try and help my Google rankings a bit.
Do you use social networking in your day to day life?
Yes. My Facebook page is www.facebook.com/rickberkphoto.
My Instagram is instagram.com/rickberkphoto.
Are you available for work (commissions)?
Yes.
Have you got hobbies?
I like to be outdoors and go hiking. That's part hobby but part job-related since, as a landscape photographer, hiking to locations off the beaten path helps me make new work. I also read quite a bit- mostly spy novels and mystery novels. And I'm a big sports fan of the NY Yankees, NY Giants, and NJ Devils.
I've recently gotten into collecting artisan fragrances (colognes) for men, and I enjoy trying local craft beers when I travel.
I have a hard time shutting it off. As an artist, there is so much uncertainty and insecurity financially, that I feel like I always need to keep producing and keep marketing, and that taking any down time will set me back. I need to learn to step back and recharge at times. It's not always easy.
Do you have a significant other? Are they supportive?
I've been married to my wife Jess for four years now. She's incredibly supportive and my biggest fan. She helped me to become a full time landscape photographer four years ago and without her none of this would be possible.
What do your family think about what you do?
My mom is supportive and proud of me. One of my brothers is supportive. The rest of my siblings are at best indifferent to my work. My kids are both supportive in their own way. My son has joined me at times on some of my photo trips, which always adds a little to the experience. My daughter is more of a homebody but she's joined me on a few outings at times and the images I've made with her have a lot of meaning to me as well.
What do you dream about when asleep?
I don't remember many of my dreams.
Where are you based?
Bath, Maine, USA