Getting To Know David Manlove Art
I'm a digital artist. My background is in Industrial Design. My interests include anything motorized, modern and futuristic architecture, space and sci-fi, jazz and especially abstract art. My objective is simple, to make something cool. I love experimenting in the digital world and hope my audience likes it too.
When did you first become interested in art?

Since I was a youngster, my Dad would draw airplanes for me, so I followed suit, drawing cars.
What style of art do you use most?
Digital Abstract now. Prior to that, Industrial Design sketching and rendering, from rough thoughts to photo realism. Done mainly in marker and pastel. Then computers came along.
I don't know that I really subscribed to any of the known "styles." That is still a concept hard for me to grasp.
Has your style changed from when you first began as an artist?
Yes of course, one's style evolves over time with new tools and techniques. The hope is that it's a good evolution that people recognize.
What medium do you use?
I am currently all digital. A simulation of almost any medium is possible on a computer. Again, while I have favorite "looks" that a medium projects, I guess I attempt to simulate paint, strokes and the topographical nature of it on a surface. If that makes any sense.
How to get past the stigma associated with digital art. Because, that is ALL I do. I can't even remember how to use a pencil. I don't even use a stylus or graphics tablet. I'm strictly keyboard and mouse. And now with the onslaught of Ai. Sheesh. Digital art's credibility feels even more diminished now. I jumped on Ai at first, but quickly faded on it, because it's "not mine."
What made you choose that medium?
I spent most of my art career working on a computer, so that's what I'm used to. But simulating paint is an "assumption," that I'm trying to let go of.
https://www.instagram.com/reel/CmW2QmcJ26b
Do your ideas come from life or imagination?
Mostly "re-imagining" life. Such as my latest Sun artworks. But of course, since abstract is my preference, I'd call that mostly imagination. Or perhaps neither, since I often tend not to have a predetermined vision in mind when I start a work. They turn out how they turn out, and it's a "Wow I like that!" or "Shoot, that's crap."
How long does it normally take you to complete a piece?
I can complete several works a day on my computer but as with most art, it's never really done, so I can spend days or more on multiple pieces at a time. I keep going until I like it.
Do you enjoy the creation of the piece (sketching out) or the finishing more?
I enjoy the "process" of a piece. An investigation, an experiment, and sometimes a happy accident. Finishing, is a necessary evil…
Do you work in a studio?
I don't have a "studio" per se. I work at my computer in my bedroom.
Which other artist, dead or alive, would you love to meet?
There are too many to list.
Syd Mead (he's passed now) was my idol when I was going to design school.
Harold Cleworth, for his photorealistic paintings of cars.
And, my favorite design instructor at school, Jack Zellner. He wowed us every time he picked up a marker (the tool of choice for designers)
These 3 are standouts for me. Funny how none fit my current direction and work. Although they influence everything I do really. I was never into art history, some of the famous abstract painters too.
What is your favourite piece of work by yourself?
The Great Oracle. I can't even describe it or why I like it so much. Obviously an experiment gone right (or wrong depending on your point of view)
How much time (on average) does it take to complete a work?
As mentioned before, I can do several a day. Sometimes I'll revisit and rework a piece. So, like a broken record, they're never really done.
As hinted above, I am very self conscious and tend to struggle with my works relevance or credibility. My confidence is low and always think my work is not really that good. I take compliments as hard as criticisms because I rarely think my work is "all that." So I often feel like people "just say that" to be nice. My definition of cool, isn't the same as my audience. I guess.
How well do you take criticism?
I like to think I can take it if it's constructive. I don't deal well with detractors who simply scoff and badmouth, who speak with bias or ignorance. But, in design school, criticism is the norm. More affectionately known as critiques.
https://www.instagram.com/p/CkgrMivO_U1/
What do you do to overcome a 'block'?
I don't know. Sometimes I have to walk away for an extended period of time. Sometimes I just "do something" regardless if I have a vision or not, just to get over the hump of starting something. It's "starting" that's the key. Once you get going, it "happens."
How do you know something is 'finished'? Is it easy to walk away?
As you may have guessed from previous answers, I feel like my work is never really done. There's always something more to do. Often though, that tends toward overdoing a piece. So sometimes I have to force myself to stop. There are times when I know too, that that's it….done!
Have you had exhibits in galleries?
I have never had any physical pieces in a gallery setting. Not that I couldn't, but I have not pursued anything like that. Perhaps I should.
Have you any exhibits in galleries planned for the future?
None. I'm not a people person and my confidence is low. Nor do I want to make prints or have "inventory" to tote around. Talk about shooting myself in the foot.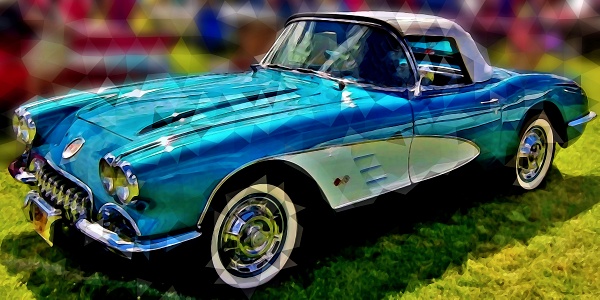 What are you currently working on?
My latest effort has been producing Suns for CBS Sunday Morning. A U.S. based news documentary show airing every Sunday morning. I have had over 50 artworks chosen to air to date.
What are your plans for the future?
They say, if you fail to plan, you plan to fail. Well I don't plan to fail but I don't really have a plan. Other than, to keep making art (for now, Suns) I mean, does it make sense to plan? I'm more of a serendipity sort.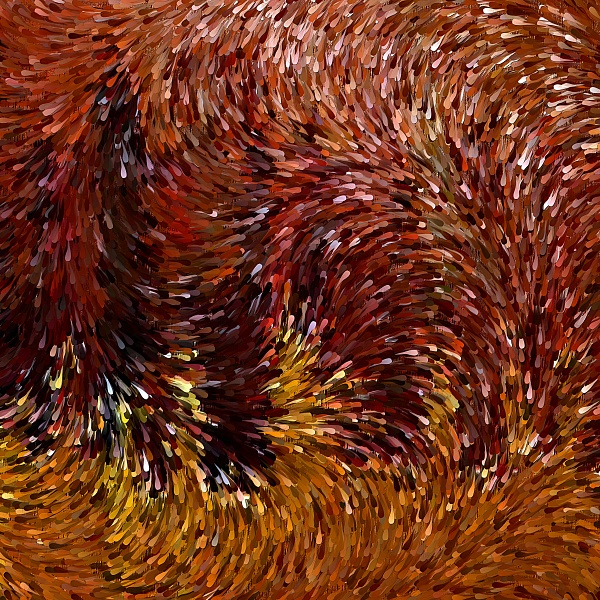 What was the best advice given to you as an artist? What advice would you give new artists?
None really "given" to me but I absorb a lot from other artists within Fine Art America and elsewhere. Especially, doing art for you (yourself, and what makes you happy). Give yourself a break and time to develop. Don't be too hard on yourself, but we are our own worst critics. There is another side of that coin too, don't be arrogant or condescending. I hate that.
I struggle with whether I'm wasting my time with any of this. That my art isn't saleable. Who would want that on their wall? Who would ever pay me what I think it's worth? Why do other artists make it big and others don't? How do I stand out? Your a dime a dozen. Anybody can do what you do. And so on… And I believe them half the time, because I rarely even buy my own work. OOooof.
Do you think the internet has altered the way artists can get known? If so, is it easier or not? Has the internet made infringement easier etc?
Absolutely. If it weren't for the internet and sites like Fine Art America, I would be nowhere. So, for exposure yes, it's easier. And yes it's easier to infringe or be infringed upon. It goes with the territory.

insaneintherainmusic – Luminaire (Insane In The Rain)
Have you done any courses to help you?
I went to school for Industrial Design. Beyond that, I have not taken any extension art courses etc. Again, perhaps I should. I currently learn through my own trial and error, with art styles, techniques, software etc. While that tends to be slow and tedious, I think it helps me develop my own style without outside ques or influences, not that that doesn't happen anyway. Pretty hard to not learn from others. As previously stated, the internet is all pervasive, thus more difficult to be unique.
What do you do to market your work?
Mainly social media and word of mouth. I also have business cards. Otherwise very little. However I do have my art with a licensing company. I'd rather they did the marketing. Many artists like myself feel we suck at marketing. A necessary evil. I'm trying out some new avenues on social media such as video slide shows with music (Reels, the equivalent of TikTok)
https://www.facebook.com/davidleemanlove/
https://twitter.com/CustomHDman
https://www.instagram.com/david.lee.manlove/
https://www.pinterest.com/customhdman/
Are you available for work (commissions)?
Yes and no, but one should really never say no. Yet, I tend not to simply because it's much harder for me to work to someone else's specifications.
Have you got hobbies?
Not really these days, my art is my hobby. Cars and motorcycles in my younger days.
Do you have a significant other? Are they supportive?
I'm as single as they get. No significant other who could stand me. Art takes a lot of time in my head, so I use that for an excuse. So a fellow artist would be nice. The "whys" of being single are for another interview though, haha.
What do your family think about what you do?
My family is supportive. They think the CBS Sunday Morning stuff is really cool. They know art is my calling. They also know how hard it is to make a living at it.
What do you dream about when asleep?
Some really crazy sh*t. Even I don't get it. A mish-mash of my past though. That's probably fairly common. Nothing clairvoyant though. Yet.
Where are you based?
Minneapolis, MN, USA