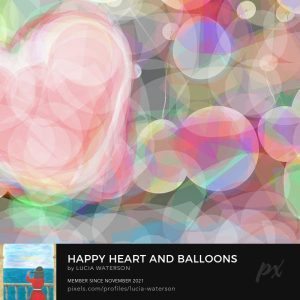 My last entry of Heart Art is called Happy Heart and balloons.
How do you recognize if someone is happy? I think from the eyes, the eyes are the window to the heart, as they say.
But if I had to describe a happy heart this is how I imagine it: surrounded by colorful balloons, grateful for the beautiful things in life, even the little ones.
Did you notice that the heart in this artwork is not deep red and you are wondering why?
The reason is that for me a happy heart is a light heart, without all the surplus heavy burdens and so it is free to fly like in the middle of a colorful party filled with balloons!
Feel free to visit my collection of Heart Art on my  site https://lucia-waterson.pixels.com/